Legal Search Connect: Federated search software
The knowledge management solution that targets and searches all your relevant resources at once.
What is Legal Search Connect?
Legal Search Connect is an information retrieval tool that streamlines resources onto one search system. The search efficiency it provides can equip teams with more timely and precise results, while concurrently increasing the use of subscription services, adding value to the products you already have.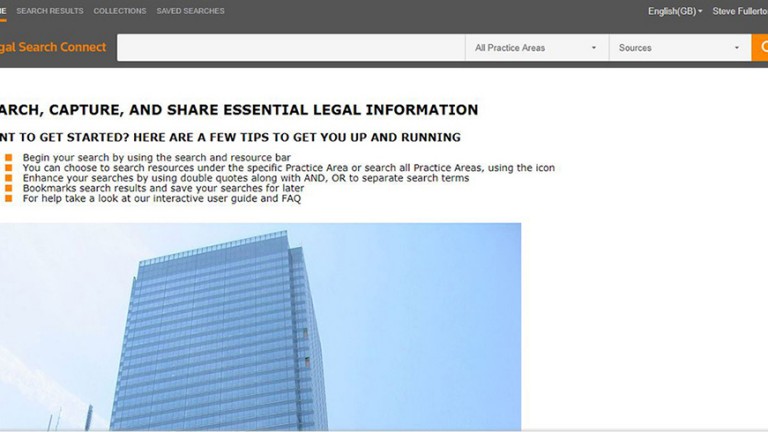 Using federated search technology, Legal Search Connect brings together internal databases and external legal information resources into a single search interface. It integrates internal document management systems with databases, websites and legal services like Westlaw UK and Practical Law.
---
Legal Search Connect results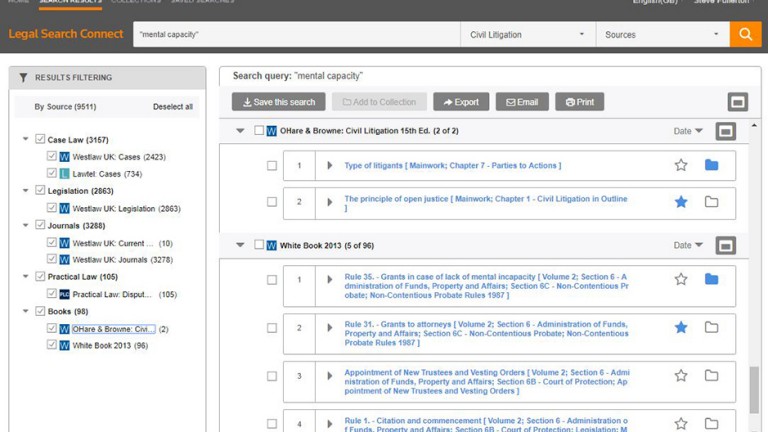 ---
Legal Search Connect collections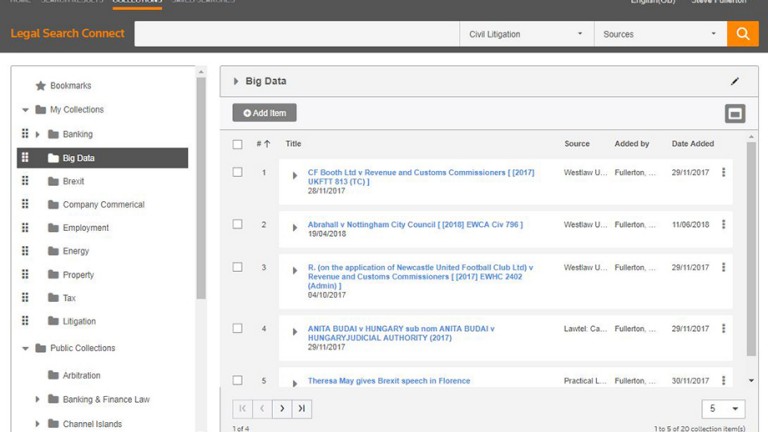 Legal Search Connect doesn't require re-indexing of any content.
Internal, external or otherwise.
Find exactly what you need - faster
The rapid pace of change in your field requires the most up-to-date case law and legislation, while keeping with regulation and compliance in a more litigious world. With Legal Search Connect, you can search multiple locations at the same time, compare the information across all services, and use the right resource in a more timely manner.
By controlling which resources can be searched and how they're searched, you can improve efficiency, reduce duplication and be certain your lawyers, paralegals and PSLs are properly using all the necessary legal resources available. So you can make decisions confidently.
Cut training needs with efficient upkeep Legal Search Connect is configurable, allowing different legal teams and practice groups to organise and search the resources that are appropriate to them. If they'd like to use a new content resource, it can be added without significant cost or disruption. The system is web-based and easy to manage with minimal IT involvement.
Capabilities and features
Improves individual search methods and results
Uses UK & Ireland's leading federated search technology
Stores searches, tags results and bookmarks documents
Allows for classification by Legal Subject, Document Type, Jurisdiction, Industry Sector and any other criteria
Saves searches and creates search links that can be embedded into internal systems
Configures resources according to what's relevant to your firm
Gives full control and management to administrators within the firm
Enables translation
Analyses and reports on usage at a firm-wide, practice area or individual level
Supports the capture, profiling, classification, browsing and searching of your know how
Shares collections with colleagues via email
Streamlines your search
Removes the need for a separate login across multiple products from various suppliers
Adds new resources with minimal disruption
Includes a knowledge management application especially designed for professional service firms
Connects your sources
Integrates with Practical Law and Westlaw UK, amongst many other websites
Integrates with your existing document management system and intranet
The new integration with SharePoint allows you to access the full functionality of Legal Search Connect within this tool