Contract Lifecycle Management
Reach a new level of efficiency and gain complete contract visibility
Gain full visibility across contract assets and produce tailored documents faster with simplified workflows. Our end-to-end contract lifecycle management solution leverages automation and AI tools to help you proactively manage obligations, pre-empt risk, and streamline your contract process from start to finish.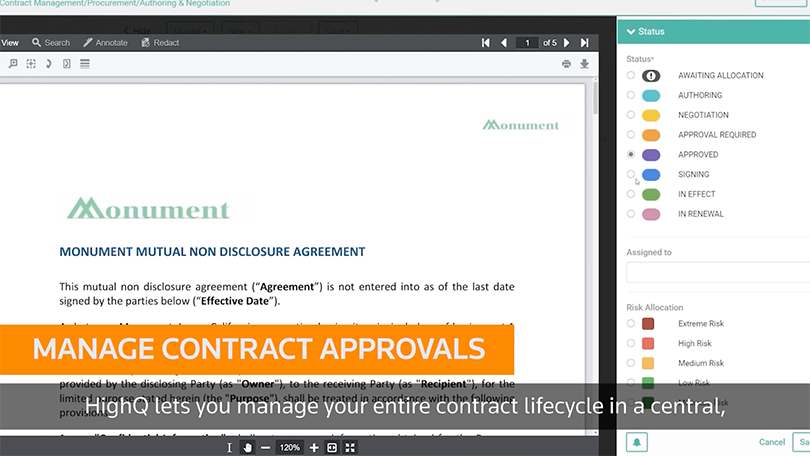 01:17
Key benefits of contract lifecycle management with HighQ
End-to-end contract management workflows
Simplify contract intake & initiation
Easily ingest third-party paper contracts with new customisable forms, Outlook, or Microsoft Teams integration
Empower business stakeholders to self-serve with HighQ's powerful document automation tool
Confidently align to market best practices with Practical Law automated templates

Quickly assign & review contracts
Remove the manual steps associated with assigning contractual work with automated triaging
Review and edit contracts with Microsoft Word and Google Docs integration
Never miss a deadline with task boards and workflow rule builder to help manage and track contractual processes
Streamline contract execution with real-time visibility 
Ensure control over your contracts with simplified, data-driven approval processes
Send contracts for on-demand approvals and reassign approvers with ease
Expedite the signing process with Adobe Sign and DocuSign integration
Quickly understand where contracts are in the signing process with eSignature dashboards
Strategically advise your business with AI-powered document review
Accelerate document review by searching across your entire portfolio in seconds and extract key clauses and obligations
Quickly identify liability and operational risks to avoid costly penalties
Manage obligations holistically across your portfolio with easy-to-build dashboards and enhanced data visualisations
Contribute to profitability by uncovering potential cost-saving opportunities within contract assets
Request Free Demo
Do you want to see how you can simplify your contract lifecycle management process? Request a free demo of HighQ today.