Legal document and contract automation
A drafting productivity solution for law firms and in-house legal teams that automates and de-risks the creation of legal documents and much more. Discover how automation can work for you.
Contract Express for in-house legal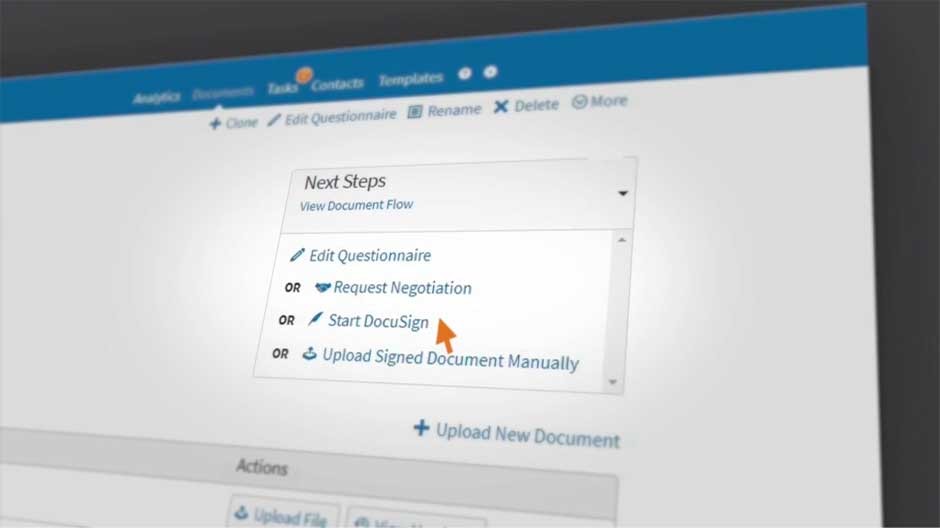 03:28
Thomson Reuters Contract Express - The in house legal story
Contract Express is much more than just legal document automation software. It offers in-house legal teams intuitive questionnaire technology, sophisticated approval workflows and reporting functionality for self-service contracting. That's why it's the solution of choice for leading corporations worldwide.
---
Test drive an example Contract Express document questionnaire for a Software Licence Agreement today, and see how easy it is to create a great first draft contract in a fraction of the time it would take to do it manually. This link takes you directly to the questionnaire and is completely free.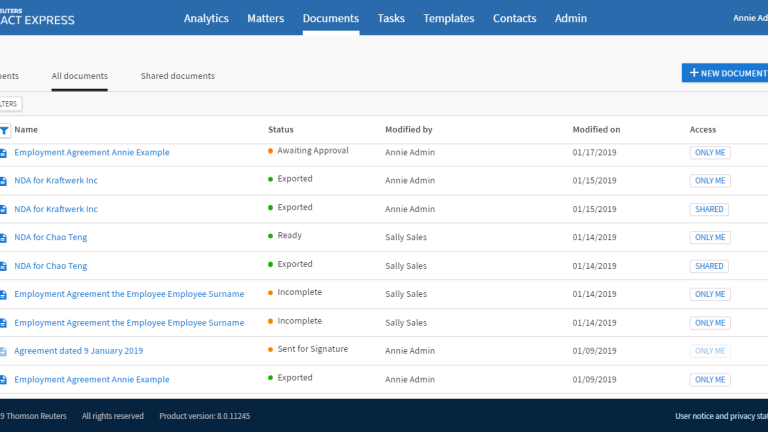 Contract Express quickly automates contracts you frequently use, increasing productivity by reducing steps in the drafting process. Users generate these draft documents by filling out web-based forms called questionnaires. The forms are created automatically from your organisation's own templates or from services such as Practical Law.
---
Tailor the solution to your needs.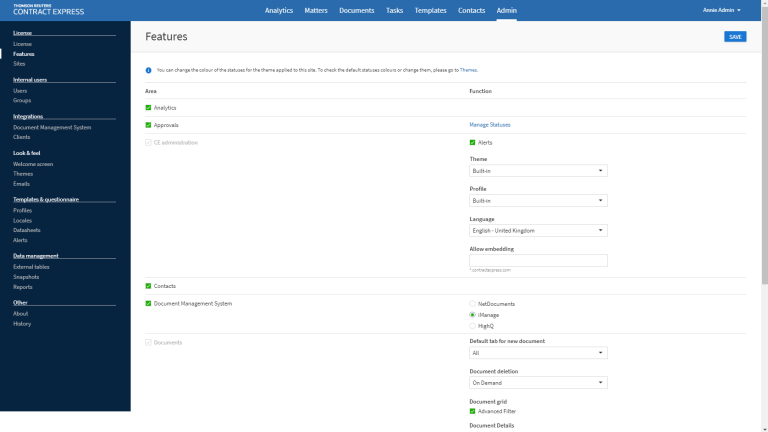 The admin settings allow you to have full control your licences, your data, your themes and what features your firm gets access to. If you want to connect to a Document Management System, you would do that here.
---
Use a trusted starting point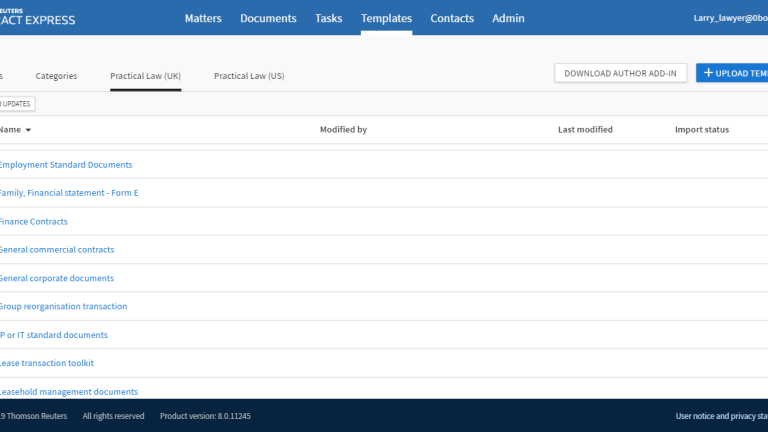 Access over 300 ready to use automated templates through Contract Express and your Practical Law subscription. These templates are industry standard and can be used as is, or you can tailor them to your firm.
---
Draft quicker and risk free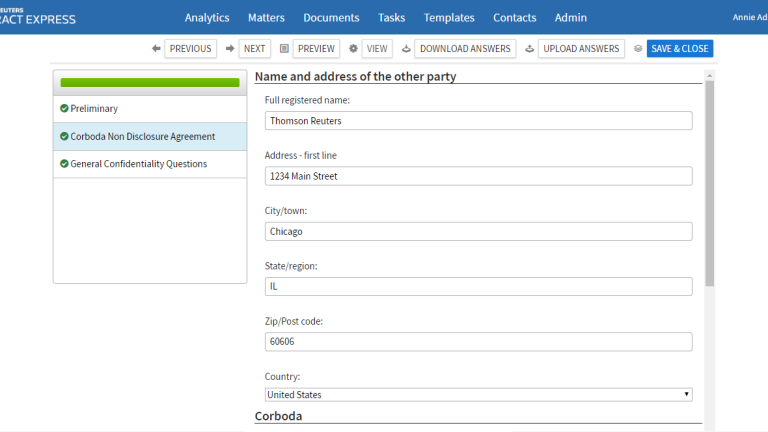 Our easy to use document questionnaires often reduce drafting time from hours to minutes. See how your changes are reflected in the document in real-time by using the Preview option.
---
Demonstrate your efficiency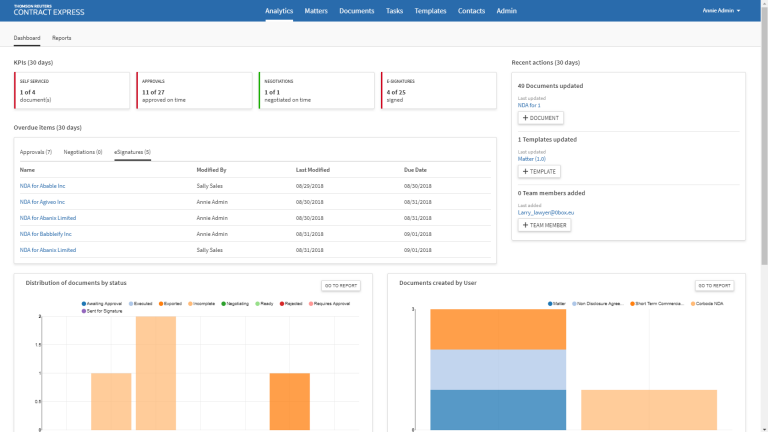 Get insight into your document management productivity with the analytics dashboard and create more detailed reports to demonstrate your firm's efficiency and use this to understand the ROI.
Contract Express works with leading legal technology to complete your drafting and document management processes.
---
Our corporate customers use Contract Express document automation to improve efficiency, reduce risk and empower their business colleagues by offering self-service contract creation at the point of need. Contract Express speeds up the end-to-end contract life-cycle by securely streamlining the contract creation and approval process.
A Contract Express customer
A Contract Express customer
Streamline the contract creation process
Contract Express integrates with Practical Law so you're equipped with industry standard documents from the starting line. You can proceed with full confidence that you're working with the most up-to-date and accurate version of a document type.
Empower internal users with self-service contracting which eliminates the legal bottleneck with pre-approved standard contracts and sophisticated approval work flows.
The precision and speed acquired through this innovative technology will give your legal team opportunities to automate routine work and time to focus on higher value work. The advanced reporting capabilities will help demonstrate the value that the legal team brings to the business.
Capabilities and features
Provides a better user experience
Offers a customisable dashboard for a law firm or client
Employs mobile first design
Has a preview mode to observe changes as they're being made through the questionnaire
Scales to your size or usage requirements
Manages high volumes of complex contracts
Generates repetitive secondary deal documents
Enables clients to complete a questionnaire to send to an associate for review
Supports a range of lawyers' needs
Recognises lawyers' square bracket legal markup notation with Contract Express Author
Assists associates and paralegals with Contract Express Drafter
Facilitates easier contract negotiation with Contract Express Negotiator
Integrates with Practical Law
Technology that meets your requirements
Works perfectly on mobile devices, whether it's a smart phone or a tablet, the features will adapt to the screen size available for drafting and review on the go.
Provides first class integration with your organization's business systems such as client, matter, billing and accounting systems.