Contract Express: Legal document and contract automation

A drafting productivity solution for law firms and in-house legal teams that automates and de-risks the creation of legal documents and much more. Discover how automation can work for you.
Contract Express for law firms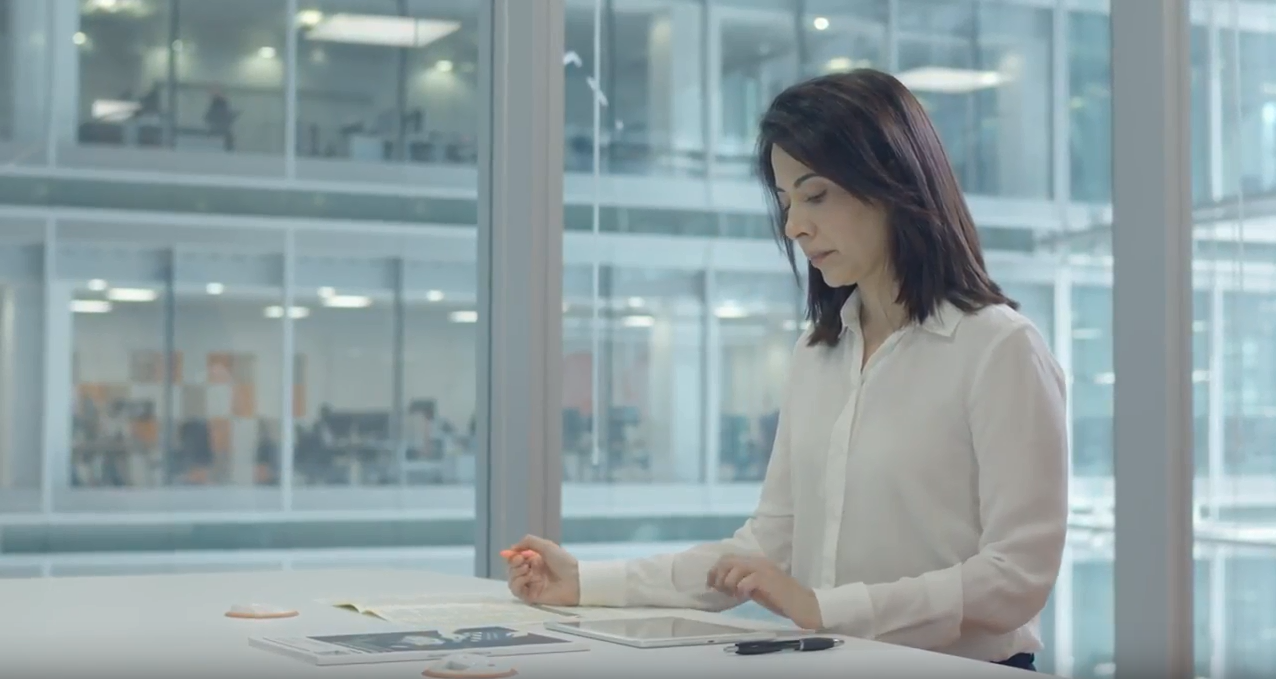 02:16
Contract Express for legal professionals
Contract Express is much more than just legal document automation software. It uses intuitive questionnaire technology for fast and accurate document drafting and enables firms to offer innovative client facing services. Contract Express understands the way lawyers work. That's why it's a solution of choice for leading law firms worldwide.
Contract Express for Law Firms PDF brochure
Test drive an example Contract Express document questionnaire for a Software Licence Agreement today, and see how easy it is to create a great first draft contract in a fraction of the time it would take to do it manually. This link takes you directly to the questionnaire and is completely free.
The more we use it in different use cases, the more our lawyers come up with better ways of using the technology.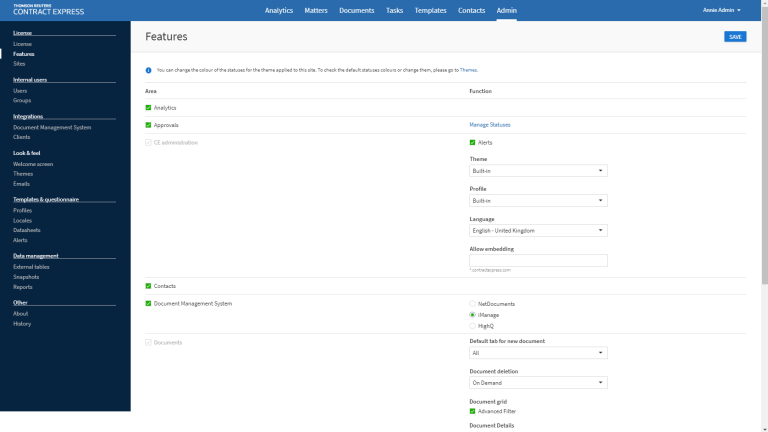 Contract Express quickly automates contracts you frequently use, increasing productivity by reducing steps in the drafting process. Users generate these draft documents by filling out web-based forms called questionnaires. The forms are created automatically from your organisation's own templates or from services such as Practical Law.
---
Keep track of all your documents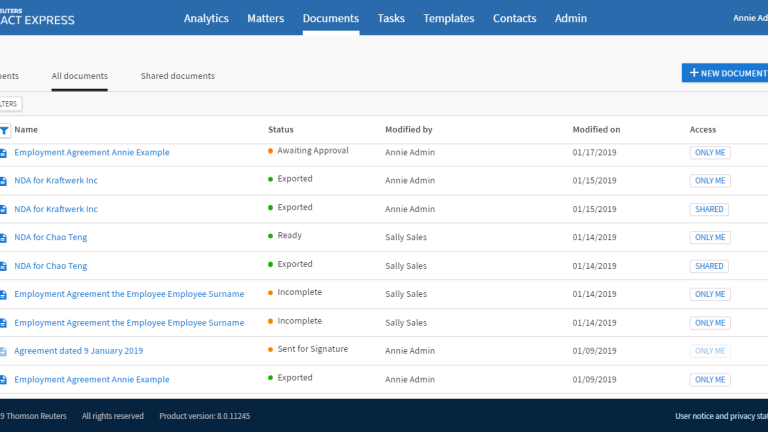 This is where all the documents your firm is working on will be listed, with a relevant "traffic light" status showing you where it is in the process. You can create custom filters to easily find the specific documents you need.
---
Demonstrate your efficiency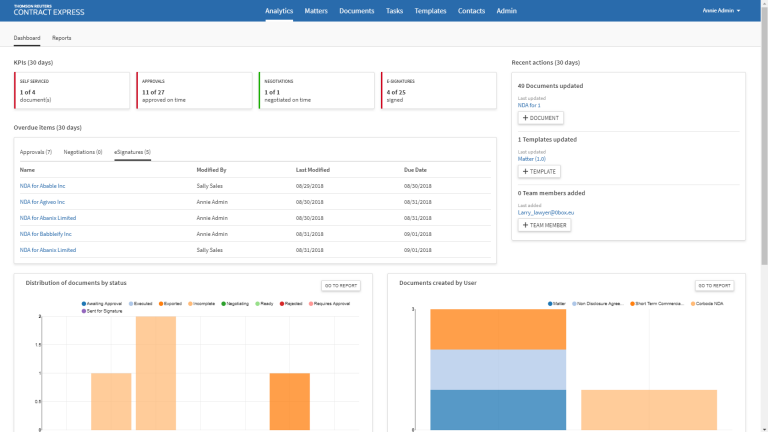 Get insight into your document management productivity with the analytics dashboard and create more detailed reports to demonstrate your firm's efficiency and use this to understand the ROI.
---
Use a trusted starting point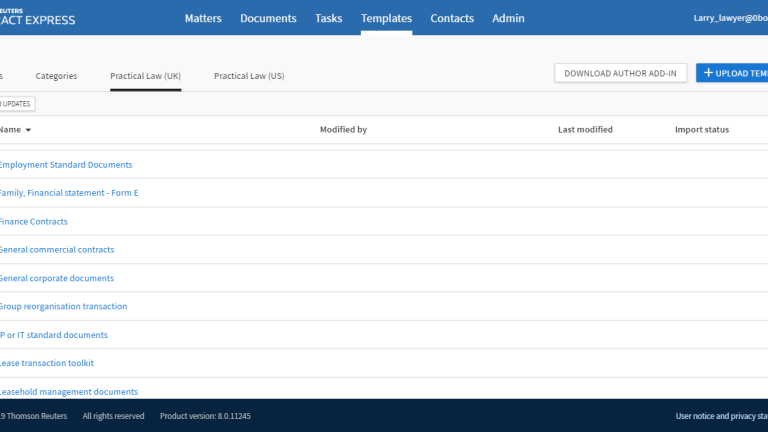 Access over 300 ready to use automated templates through Contract Express and your Practical Law subscription. These templates are industry standard and can be used as is, or you can tailor them to your firm.
---
Draft quicker and risk free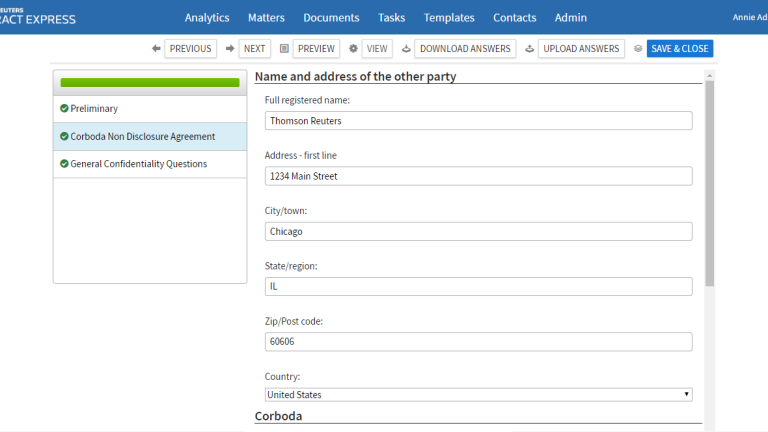 Our easy to use document questionnaires often reduce drafting time from hours to minutes. See how your changes are reflected in the document in real-time by using the Preview option.
Contract Express works with leading legal technology to complete your drafting and document management processes.
---
Our law firm customers use Contract Express document automation to win new clients, retain key clients, and increase partner profits by developing innovative, online client services. In addition to the innovative applications described below, law firms are also using Contract Express to increase internal efficiency and monetize KM more than ever.
Free yourself to work on higher value tasks
Contract Express integrates with Practical Law so you're equipped with industry standard documents from the starting line. You can proceed with full confidence that you're working with the most up-to-date and accurate version of a document type.
The software features a patented template automation tool for MS Word that, unlike all other document automation products, understands lawyers' square bracket legal markup notation. This means lawyers can automate and update the most complex legal documents without needing an IT specialist or programmer.
The precision and speed acquired through this innovative technology will differentiate your legal service from the competition. Clients will benefit from easy collaboration with associates through a secure client portal, and your firm's advanced efficacy and improved compliance will be a selling point for new work.
Capabilities and features
Contract Express offers a customisable dashboard that employs a mobile first design.
Contract Express can manage high volume of complex contracts and generate whole suits of documents from one questionnaire.
Recognises lawyers' square bracket legal mark-up notation with Contract Express Author.
Provides first class integration with your organization's business systems such as document management, e-signature, client-collaboration, billing and accounting systems.
The benefits are clear. Document automation allows us to quicken the pace at which we produce documents while maintaining quality and mitigating risk.